Chinese paper cutting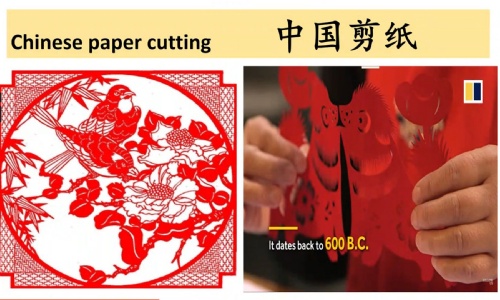 Learn Chinese paper cutting with Mrs Yang
Chinese New Year is one of the most exciting events this month, full of colour, traditional lion dances, live music and a whole lot of dragons. 2021 is a year of the Ox, starting from February 12th, 2021. King Edward VI Aston School and Swire Chinese Language Centre Birmingham held exciting New Year celebrations. One of the activities the students enjoyed was learning how to do traditional paper cutting with our Chinese teacher, Mrs Yang. Please see link for Mrs Yang video to learn how to do the paper cutting.
Paper-cutting is a very distinctive visual art of Chinese handicrafts. It originated from the 6th century when women used to paste golden and silver foil cuttings onto their hair at the temples, and men used them in sacred rituals. Later, they were used during festivals to decorate gates and windows.
This year our students learned how to cut snowflake and traditional Chinese character "春 -spring" for our Ox year decoration. They enjoyed learning this new skill, it deepened their understanding about the different ways in which other people and other cultures celebrate.
Learning such as this raises the students' awareness and acceptance of what, how and why other people celebrate. It puts our own cultural identity and celebrations into context and increases the students' knowledge about other cultures.